Featured News - Current News - Archived News - News Categories
Literacy New York To Celebrate National Adult Education and Family Literacy Week
Mon, Sep 17th 2018 09:00 am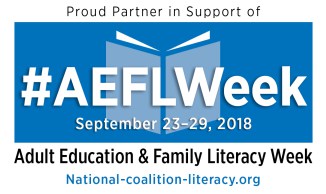 Despite the significant role of literacy in today's world, often little attention is paid to it.
As many as 36 million American adults struggle to read, write, perform daily math and use technology above a third grade level. This severely limits their access to jobs, college and citizenship and increases their vulnerability to living in poverty.
National Adult Education and Family Literacy Week raises public awareness about the need and impact of adult education and family literacy to leverage resources in order to expand access to basic education programs for adults with low literacy skills.
Consider the following facts on the National Impact of Literacy:
People from low educated families are 10 times more likely to have low literacy skills.
Better educated parents tend to produce better educated children.
Literacy education in adulthood is an important contributor to child success in pre-school. A mother's reading level is the single greatest determinant of a child's success.
People with low skills are 4 times more likely to have poor health (twice the national average).
Low literacy costs an estimated $230 billion in annual healthcare costs.
Health Literacy programs can increase adults' understanding of medical problems & save medical costs.
Globalization means US adults must compete globally; workplace literacy programs help them compete.
Women with low literacy are twice as likely as men to earn less than $300 a week.
Minimum wage workers increased wages by 18 to 25 $ within 18 months of exiting an adult ed program.
Low literacy limits Americans' civic engagement. Low literate adults are less likely to vote or join community groups.
From the Commission on Adult Basic Education (COABE) and ProLiteracy
New York State has a literacy problem. A total of 3.4 million New York State residents are either functionally illiterate--reading below the 5th grade level—lack a High School Diploma or cannot speak English...BUT fewer than 10% are receiving help for their literacy needs.
Low literacy affects every area of life, in New York State, and throughout the U.S.
43% of adults with the lowest literacy skills live in poverty
50% of the chronically unemployed are functionally illiterate
76% of adults on public assistance are illiterate or unable to read more than simple text
Welfare recipients with the lowest literacy skills stay on welfare the longest
75% of prisoners fall into the lowest two levels of literacy
85% of juvenile offenders have reading problems
During AEFL Week, Literacy New York urges people to get involved with their local adult literacy organization which can be found here, under Providers/Site Locations: https://www.literacynewyork.org/ If you need help with your literacy, please call us at 716-651-0565
About Literacy New York
Literacy New York (LNY) works with nearly 40 adult literacy organizations throughout New York State--building the organizational capacity of community based literacy programs. These local programs, in turn, provide literacy instruction to adults who want to improve their literacy skills.
Programs supported by LNY raise literacy levels for thousands of adult learners in New York State through the service of numerous dedicated volunteers.
LNY leads and supports adult literacy initiatives through:
Enhancing the capacity of providers
Engaging volunteers in service
Creating public awareness and
Building more literate communities
comments powered by

Disqus