Featured News - Current News - Archived News - News Categories
Presentation at International Conference
by Literacy New York
Fri, Jan 3rd 2020 02:00 pm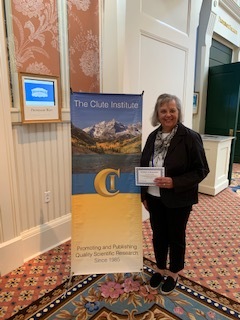 Ann Marie Przybyl, Director of the West Regional Adult Education Network (RAEN), was invited to co-present with Dr. Julius Gregg Adams at the Clute International Academic Conference on December 30, 2019 in Orlando, Florida. Dr. Adams is the Executive Director of The University at Buffalo's Educational Opportunity Center (UBEOC). Together, they discussed New York State's move from the GED Exam to the TASC (Test Assessing Secondary Completion) exam in 2013 and the partnership between the UBEOC and the West RAEN.
They talked about the history and progression of the UBEOC approach for High School Equivalency (HSE) candidates and highlighted its role as a model for the NY State Education Department's "Fast Track" HSE candidate program, a successful pathway to high school equivalency. Included was a description of the various stages of the process including initial planning, curriculum development, and preparing for practice and actual exams. Ms. Przybyl specifically addressed NYSED's innovative diploma completion models, the resources created to support them and the collaboration between the UBEOC and the RAEN that created the Western New York HSE Network.
The Clute Institute was founded in 1985 for the purpose of disseminating the latest academic research on various business and economics-related topics. Workshops at this conference were presented by educators representing places as far away as Saudi Arabia, Japan, Canada, and Lebanon; as well as throughout the United States. Literacy New York is proud of our colleague, Ann Marie's, participation in this esteemed gathering!
comments powered by

Disqus