Featured News - Current News - Archived News - News Categories
Literacy Solutions Celebrates Pat Rajala's 40 Years with Literacy!
by system
Tue, Sep 3rd 2019 02:00 pm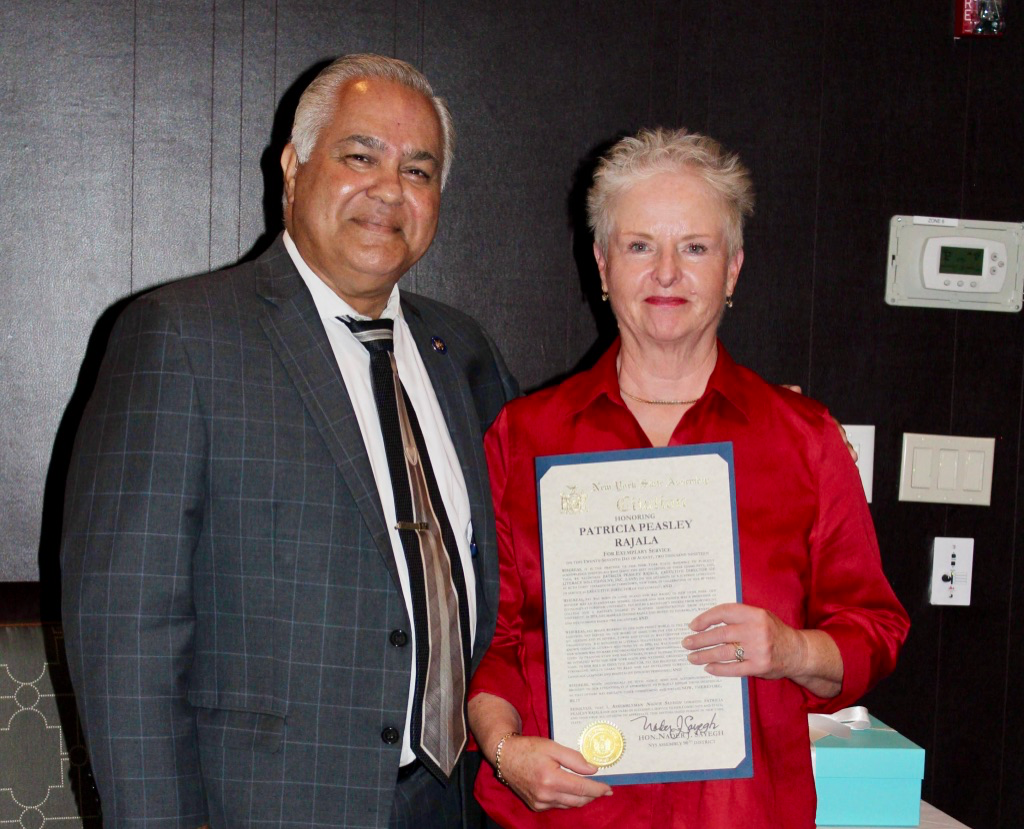 Pat Rajala, long-time Executive Director at Literacy Solutions, was recently surprised with a party to celebrate her 40 years with the program. Literacy New York (LNY) has long referred to Pat as the "Grand Dame" of literacy, and her knowledge and experience are unparalleled. She currently runs the largest adult literacy program of the NYS Adult Literacy Education (ALE) funded programs, based on number of students served each year.
Pat began her involvement with Literacy Solutions, then Literacy Volunteers of Mount Vernon, as a tutor in 1979. In the 1980's, she served as a member of the board of directors with a number of local Literacy Volunteer programs, which united to become Literacy Volunteers of Westchester County in 1983. Pat became the Executive Director of the program in 1992, and today, the merged volunteer literacy providers have become Literacy Solutions NY, serving Westchester and Rockland counties. Pat's tenure in literacy includes time working for Literacy Volunteers of America's national office, as a contractor focused on fund development. She managed a number of campaigns, including the Incredible Reading Rally and the initial SCRABBLE fundraisers. Her friend and colleague, Marsha Tait, Executive Director of LiteracyCNY and LNY Board Member, says of her time working with Pat in the national arena: "If I had to guess, I'd say hundreds of thousands have probably been raised by these events over the years. Pat and I became good friends and continue to be to this day. We had a LOT of laughs!"
Pat is highly regarded in the adult literacy field. Tara Schafer, Executive Director of Literacy Buffalo/Niagara says: "Pat has been a trailblazer for women like me in the Literacy profession. Her vast experience and willingness to support her peers has had a positive impact on me personally and professionally. Congratulations to Pat on celebrating her 40th anniversary!"
Cecilia Brock, Executive Director of Literacy Northern NY and LNY Board Member adds: "Pat Rajala has been a dedicated, innovative leader in the adult education field for an astounding 40 years. She oversees a vibrant, multi-faceted agency that has expanded from the traditional one-to-one tutoring model to include classroom instruction with paid professionals, a literacy zone that works with many local agencies to coordinate literacy services from birth through adult education, and civics instruction for immigrants who are studying to become U.S. citizens. Pat generously shares her wit and wisdom with her adult literacy colleagues from around New York State and her dedication to helping others become more literate is an inspiration to all of us."
Literacy New York adds our voice to the proclamations from the counties of Westchester and Rockland, the city of Yonkers, and New York State Senator Andrea Stewart Cousins and NYS Assembly Member Nader J. Sayegh: Congratulations and thank you, Pat!
comments powered by

Disqus