Hundreds Rally For Adult Literacy Programs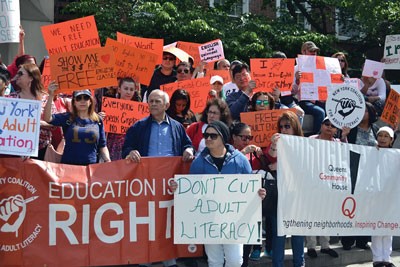 The rally was organized by the New York City Coalition for Adult Literacy—a group comprising dozens of colleges, community-based organizations and advocacy groups—in response to de Blasio's 2018 executive budget. The group said that the funding proposal features a "$12 million funding cut" to adult literacy programs that could eliminate literacy classes for more than 5,500 students, including 1,300 in Queens.
Those literacy classes include English language classes and other such programs that may help immigrant New Yorkers adjust to life in the United States.
"This is one of the largest rallies I have ever seen here," said Councilman Barry Grodenchik (D-Oakland Gardens). He vowed to work with the rest of the City Council to prioritize the funding during negotiations, citing support from Council Speaker Melissa Mark-Viverito (D-Manhattan) and Council Finance Chairwoman Julissa Ferreras-Copeland (D-East Elmhurst).
"Adult literacy is not a luxury; it is not a frill," Grodenchik added. "Queens is over half foreign born, and while many people come here speaking English, many don't—so, we need to make sure that all those people and just about everybody who comes here who wants to learn English has the opportunity to do so."
For one rally participant, Maria Medina, who has taken English classes at the Jacob Riis Settlement House in Long Island City's Queensbridge Houses for the past three years, the classes are crucial for her to be able to support herself.
"If my English is improved, I can improve at my job," she told the Queens Tribune. "I work for my family, to help my family. If I have to pay for class, it's impossible to help my family."
Medina's teacher, Jennifer Pingeon, has seen firsthand how the program helps community members get jobs, continue education or communicate with their children's teachers.
"Come and see how dedicated, how hard working and brave these students are, and I think that [de Blasio] would want to do everything he could to put his money into helping them and continuing to help them, because they'll help us," she said.
BY JAMES FARRELL
Staff Writer
Photo by James Farrell