October Success Story—Citizenship Attained!!!
Mon, Oct 16th 2017 12:00 pm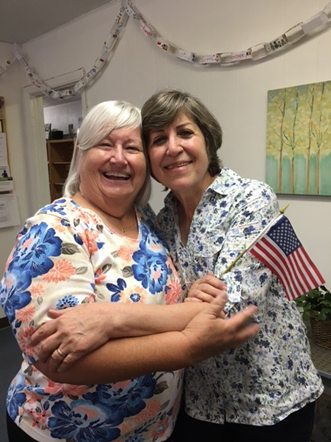 Meet new US citizen Shanin Talai:
At a young age, while attending high school in Iran, Shanin Talai fell in love with English—it was her favorite subject to study. After high school, she continued learning English as a hobby, got married, and became a mother.
Four years ago, Talai and her husband came to the United States. Although she had spent many years practicing reading and writing in English, she struggled to understand Americans and everything going on in her community. Friends referred her to ReadWest, Inc. in Rio Rancho, New Mexico. ReadWest, Inc. is a nonprofit adult literacy agency that provides one-to-one tutoring sessions that help adults learn to read, write, and speak English.
Talai enrolled in ReadWest's U.S. Citizenship Preparation Course. With the help of her volunteer course tutor, Lynn Simpson, and the materials supplied by ProLiteracy's National Book Fund, Talai achieved her goals. On June 26, 2017, Talai passed the course at ReadWest. She gained the vocabulary, civics, culture, and literacy skills she needed to prepare her papers for citizenship and pass the interview for the citizenship exam. She was sworn in as an American citizen in August 2017.
Our providers know that feeling—when we help a student become an American. A moment like no other…